Music
The Brontë Pin
Pitch-A-Tent Records/Veritas, 2017
The Brontë Pin pt.1
The Bastards Never Show Themselves
Duat! Duat!
Up From The Cane
Boar's Head
The Brontë Pin pt.2
23rd Century Hard Bop
John The Gun
The Honorable Death Of The 100 Million
The Sinking Of The Essex
The Last Leviathan (interpolating Rabbit's Foot)
Osiris Rising
Buy The Brontë Pin Letterpress Poster
What's Left For Kicks?
Magnetic, 2006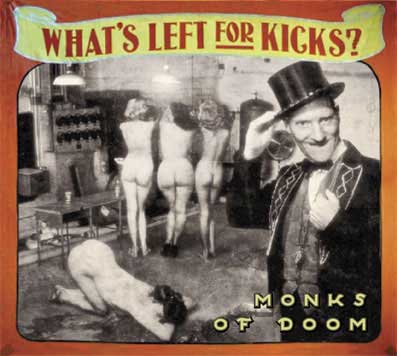 The 15th (Newman)
Light In The Sky (Hillage/Giraudy)
Forever (Harper)
New Saigon (Pell Mell)
No Looking Back (Bramah/Baines)
The Calvary Cross (Thompson)
Oh Well pt.1 (Green)
Dedicated To You, But You Weren't Listening (Hopper)
"La Dolce Vita" Suite: a)The Black And Crazy Blues (Kirk) b)Parlami di me (Amurri/Rota) c)La Dolce Vita (Verde/Rota)
King Kong (Davies)
Hurricane Fighter Plane (Cunningham/Thompson/Barthelme)
Calvary (Duncan)
Poison (Jansch)
Moon In June (Wyatt)
Für Immer (Dinger/Rother)
Buy What's Left For Kicks? CD
Forgery
IRS Records, 1992
Flint Jack
Flow
Tanguedia (For Astor Piazzolla)
Virtual Lover
Queen of Fortune
Dust
What Does a Man Require?
A.O.A.
Cigarette Man
Off on a Comet
Tanguedia (Reprise)
Chaos Is Not Dead
The Insect God
C/Z Records, 1992
The Insect God
Chang
Let's Split
If It Don't Kill Me
Who Are The Brain Police?
Buy Insect God Picture Record
Meridian
Moist/Baited Breath, 1991
Cherry Blossom Baptism
Riverbed
Turn It On Itself
Geode I
Door To Success
The Traveler
[Untitled]
Argentine Dilemma
The Better Angels Of Our Nature
Going South
Follow The Queen
Hieroglyphic
The Harbor Incident
Miracle Mile
Geode II
Circassian Beauty
The Cosmodemonic Telegraph Company
Pitch-A-Tent Records 1989, reissue IRS Records, 1992.
Vaporize Your Crystals
The Vivian Girls
All In Good Time
Voodoo Vengeance
Taste Of Tendon
Trapped
The Evidence You Hide
Unexplained Murders
The Beach Of Deception
Untitled
Broadcast At Midday
Soundtrack to the Film "Breakfast on the Beach of Deception"
Pitch-A-Tent Records, 1987, reissue IRS Records, 1992
In Anticipation Of The Pope
Blues On Sunday
Facts About Spiders
Ukranian Technological Faith Dance
Lappish Tea Song
B-Music
Fall From Grace
Save Me From Myself
Visions From The Acid Couch
Insana And Her Manchild
Jim Gore And The Ghost Of Missouri
The Haunting Of An Eastern Man's Mind
Eldridge Street